Custom Pool Decks Design Contractor in King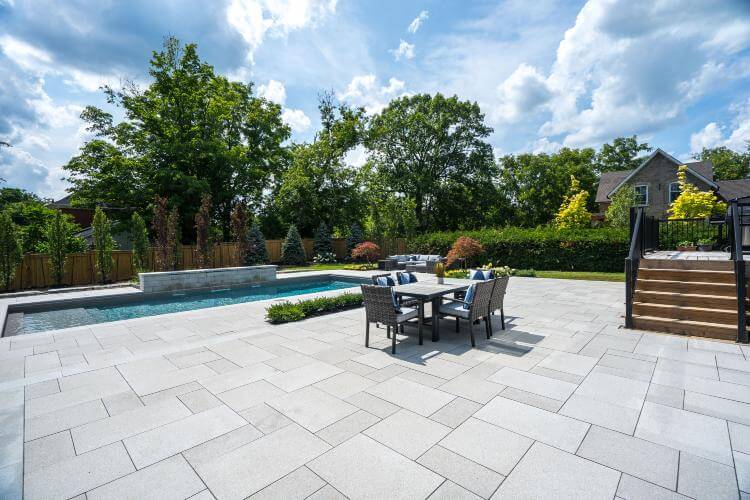 Designing Amazing King Pool Decks Since 2008
Designing the stone swimming pool decks that surround an inground swimming pool in King is equally as important as the swimming pool itself. Homeowners who have swimming pools installed may overlook this aspect of the job but it is plays an important part in completing your backyard oasis.
A swimming pool deck design is going to add a tremendous amount of safety, utility, and visual interest to your backyard. When creating a swimming pool deck design around you swimming pool, you will want to keep some key points in mind.
When working with a top-tier pool deck construction professionals, such as those at Aquaview Pool Inc. you will want to consider the information shared below.

Considerations When Choosing Your King Swimming Pool Decks
When considering to build a swimming pool deck you may want to consider safety and functionality.
Some homeowners in the King area are going to choose to move forward with decking surfaces that are purely focused on safety, offering a lot more when it comes to tactile grip for bare feet and including higher side rails to protect people from getting into the pool when there isn't supervision.
Other homeowners are going to want safety and security features with their decks for sure but are also going to want these key pieces of backyard architecture to be aesthetically pleasing as well. Your ideal usage of these decks will inform how they are designed and how they look – which will inevitably inform how much you have to spend on these decks to begin with.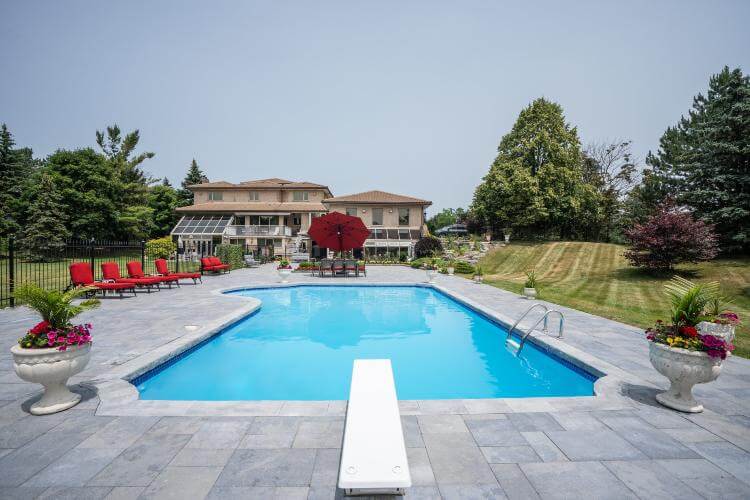 Experienced Professionals to Build Your King Custom Pool Decks
Just as you want your swimming pool to be built by the right professionals, it is also key to hire the right professionals that are experienced with the construction of a pool deck in the King area. Custom pool decks should complement the swimming pool, landscape as well as the home.
Custom pool deck professionals should be licensed, insured, and experienced in their line of work throughout the King area. You want to know that you're moving forward with experts that you can trust and rely on to deliver top-tier results, on budget and on time.

Key Concerns When Choosing Your King Pool Deck Designer
Sitting with a professional contractor who can help you with your pool landscape design is the first step in creating your backyard oasis. For over a decade now, we have been helping homeowners in the King area by creating beautiful pool landscape designs for their property.
Below are a couple of questions you may want to consider asking your pool deck designer, including (but certainly not limited to):
Have you built or designed decks like the one I envision in the past?
Do you have pictures of decks you have designed previously that I could have a look at?
How collaborative is your deck designing process?
etc…
As a homeowner, you want to feel confident that the pool deck designer you choose is executing your vision to the fullest.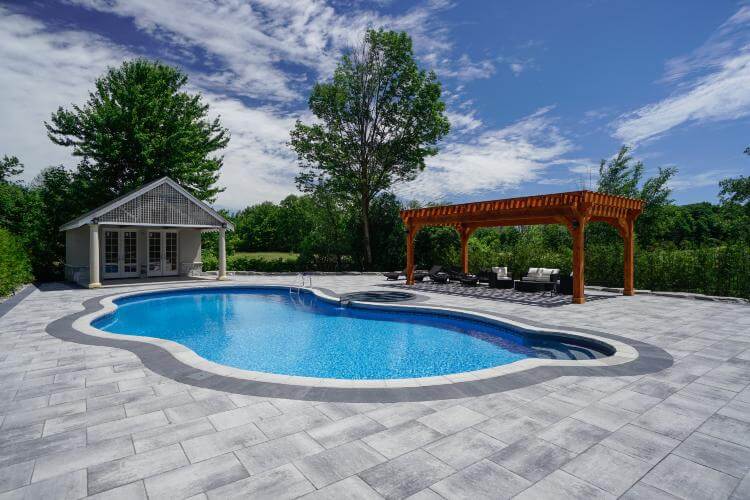 Selecting The Right Stone Pool Decks To Fit Your King Landscape
Selecting the right construction materials for your swimming pool deck area is another important part of the project, and you will want to be sure that you have researched your options before you make any decisions.
There are two types of construction materials you can use when it comes to your pool deck, synthetic and non-synthetic. Synthetic deck materials can have a more high-end and upscale appearance, however they cannot offer the same kind of permanency, look and durability as non-synthetic materials.
Many homeowners have found that using a combination of synthetic and non-synthetic construction materials can produce the most appealing and best performing pool deck designs.

Hiring Us as Your Pool Deck Builders Near The King Area
If you are looking to hire professionals in King that can provide you with a swimming pool deck that will enhance your swimming pool area, then the professionals at Aquaview Pools Inc.can create this for you.
Here at AquaView Pools Inc, experienced design professionals can work with you to create a swimming pool deck design that fits your swimming pool, landscape, home and property needs.
For more information, contact AquaView Pools directly at your earliest convenience.
Swimming Pool Decks Design in King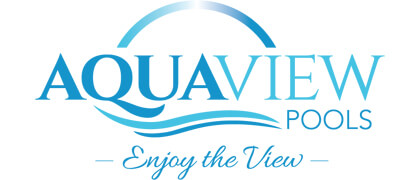 Aquaview Pools
10504 Islington Ave #835
Kleinburg, ON L0J 1C0
Tel: (647) 617-2782




5

/

5

stars – based on

9

reviews