Swimming Pool Landscape Design Contractor in Newmarket
An Ultimate Backyard Experience With a Custom Newmarket Landscape and Pool Design
When most homeowners throughout the Newmarket area dream about installing a swimming pool in their backyard, they are not just thinking about the pool itself – but instead are thinking about the poolscapes that are created when swimming pool landscape design is taken to the next level by our professionals.
Working with the land you have available, the space you have dedicated to your swimming pool area, and your ideal outcome the right swimming pool experts can help to craft poolscapes that transform your backyard from start to finish – creating the ideal entertainment oasis you, your family, and your guests will love for years to come.

Swimming Pool Landscape Design in Newmarket Area Taken to Another Level
A swimming pool alone can be a perfect way to beat the summer heat in the Newmarket Area, but nothing can create an outdoor ambiance together like the perfect swimming pool landscape design built by professionals.
Experts like those here at Aquaview Pools can help design your ideal vision for your backyard project. From enhancing your landscaping designs and lighting to architectural elements to creating a space for cooking, dining and having the ultimate backyard experience.
When you rely on professionals to help you create and build the perfect poolscapes you turn your backyard into an oasis you'll never want to leave!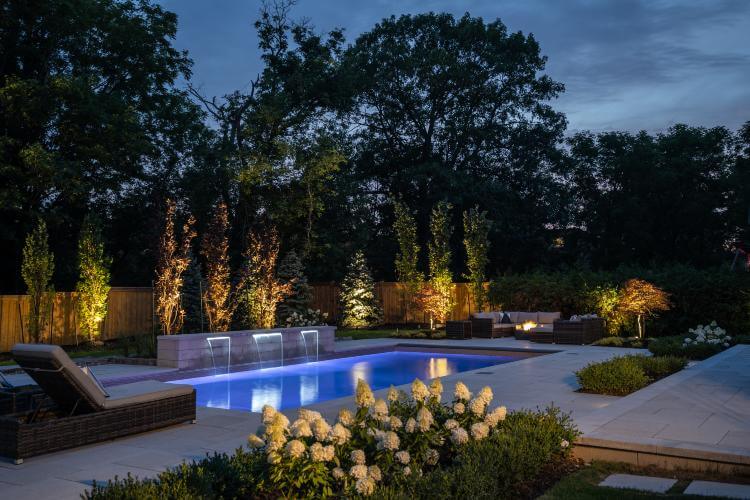 Choose The Right Landscape And Pool Design Contractor in Newmarket
The most important aspect to creating poolscapes is to hire a qualified Newmarket landscape and pool design professionals.
To ensure your pool design contractor is a qualified professional, check that they are licensed and insured (protecting you every step of the way). Also, choose someone with a significant amount of experience in building poolscapes for other homeowners in Newmarket. Someone who has experience can offer you testimonials to help guide you to make the right decision.

Points to Consider When Creating a Custom Newmarket Landscape Pool Design
Professional landscape pool design begins with a clear and concise vision of what your ultimate backyard oasis should be.
Whether your looking to build a pool, add to an existing pool, or create a luxurious entertainment space, Aquaview will help you every step of the way (including the budget). Aquaview offers one on one appointments with our clients to provide them with the proper poolscape information, answer all questions, and to discuss the process of the project in its entirety. In addition, we offer our clients a 3D virtual drawing which allows our clients to visual their project come to life.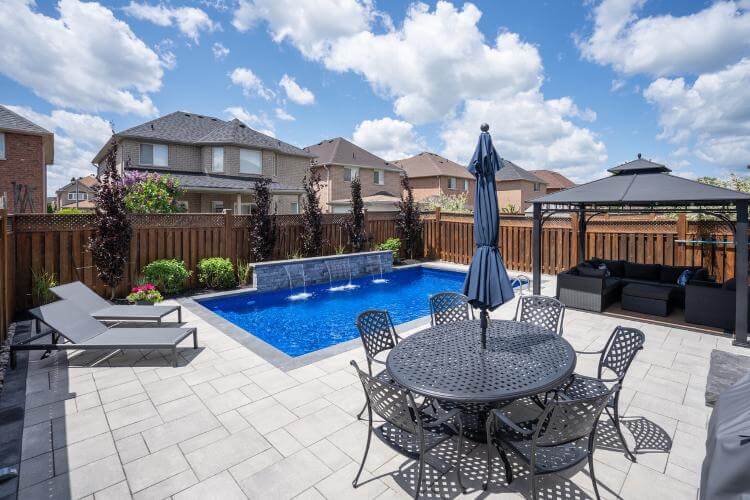 A Proper Newmarket Pool And Landscape Design Adds Life To Your Pool Area
By enhancing your backyard space with pool and landscaping designs, you will be giving your home a luxurious appeal while adding value.
Here at Aquaview Pools, we take the time to understand your property (i.e. land slopes, grades, gas lines, irrigation systems etc.) to ensure what is best best for your project, integration to the poolscapes, safety and your vision.

Transform Your Backyard With the Best Pool Area Designs in Newmarket
When you choose to implement some of the pool area designs crafted by our professionals at Aquaview Pools you choose to elevate and improve your outdoor spaces from top to bottom.
By choosing Aquaview Pools, you are choosing the professional poolscape designers near Newmarket that will take your project to the next level! Call today for your free consultation.
Swimming Pool Landscape Design Near Newmarket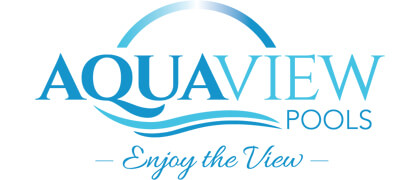 Aquaview Pools
10504 Islington Ave #835
Kleinburg, ON L0J 1C0
Tel: (647) 617-2782




5

/

5

stars – based on

9

reviews